Pituitary Hormones Should Be 'Restored to Healthy Levels
" Now what?" Dr. Scumpia says:
1. If you have a history of any pituitary disease you need to be followed by an endocrinologist because of the complexity of this gland
2. The pituitary gland known as the queen mother of glands is located by the brain and is pea size. It commands the thyroid, the adrenals, the lactation hormones, the thirst hormone , the ovaries in women and the testicles in men
3. It functions as the most sophisticated computer with adjustments in hundreds of hormones every millisecond
4. The pituitary function has to be checked in cases of any traumatic brain injury
5. Its pathology becomes more frequent given the sport traumatic brain injuries
6. If you had any loss of consciousness secondary to brain injury you need to see an endocrinologist
7. Think pituitary if you have any of the followings ; lactation in the absence of pregnancy, breast enlargement in men, low testosterone, absence of periods, enlargement of the hands and feet and a change in appearance, skin stretch marks accompanied by obesity , double vision or tunnel vision, history of brain injury etc.
Article from Medscape:
Patients with hypopituitarism should have their hormone levels restored as close to physiologic levels as possible, while taking into account potential interactions between hormones and other medications, say new guidelines on diagnosing and managing the syndrome.
In its first clinical-practice guideline on the topic, the Endocrine Society states that the diagnosis and monitoring of the various deficiencies in pituitary hormones that make up hypopituitarism rely on accurate and reliable measurement of hormone levels.
The recommendations also incorporate the results of two systematic reviews commissioned for the guidelines, which show that hypopituitarism is associated with an increased mortality risk, especially in women, and that growth-hormone (GH) replacement therapy does not increase the risk of recurrent or secondary tumors.
The guidelines, which were published online in the Journal of Clinical Endocrinology & Metabolism on October 13, were cosponsored by the American Association for Clinical Chemistry, the Pituitary Society, and the European Society of Endocrinology.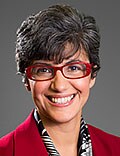 Dr Maria Fleseriu
Guidelines chair and lead author Maria Fleseriu, MD, FACE, professor and director, NW Pituitary Center, Oregon Health & Science University, in Portland, told Medscape Medical News that they wanted "to create a thoughtful, evidence-based approach" to the diagnosis and management of hypopituitarism.
Hypopituitarism Patients Best Managed in Specialist Centers
Hypopituitarism, or pituitary insufficiency, occurs when the pituitary gland does not produce sufficient amounts of hormones that regulate respiration, reproduction, growth, metabolism, sexual function, and other important biological functions. This rare disorder can occur due to abnormal development or later in life as a result of a tumor, traumatic brain injury, hemorrhage, or autoimmune condition.
"Hypopituitarism can manifest as low levels of a variety of hormones, including cortisol, thyroid hormone, estrogen, testosterone. and growth hormone," said Dr Fleseriu, and thereby can display as adrenal insufficiency, hypothyroidism, hypogonadism, and growth-hormone deficiency, as well as diabetes insipidus (DI).
The prevalence of hypopituitarism is conservatively estimated at 45 cases per 100,000 population. It is associated with a reduced health status resulting in incapacitation and more sick days, lower quality of life, increased mortality risk, and consequently higher healthcare costs.
Dr Fleseriu explained there is "an overall lack of knowledge among healthcare providers" on the differences between patients with, for example, central adrenal deficiency or central hypothyroidism — both a result of hypopituitarism — vs those with more common diseases, such as primary adrenal insufficiency or primary hypothyroidism.
"We wanted the guidelines to be used by academic endocrinologists in specialty centers, but we address recommendations that can, we hope, be very useful to meet the needs of the clinical endocrinologists seeing patients in private offices, as well as neurosurgeons and internal-medicine or family-practice providers," she noted.
Dr Fleseriu added, however, "Given the complexity of hypopituitarism, patients are best managed in specialized centers." particularly if, for example, they would like to be pregnant, continue to have decreased quality of life, have pituitary apoplexy, or are receiving concomitant medications, including, but not limited to, antiepileptic drugs.
She emphasized that it is crucial that clinicians should look at all hormone deficiencies at the same time as well as the interaction between hormones. It may be the case, for example, that "if you are replacing just one hormone, you may not really be aware that replacing that hormone will change the requirements of doses for all the other hormones.
"Hypopituitarism patients usually are on four or five replacement therapies, just as hormonal-replacement therapies. We're not even talking about all the other medications, so the interaction between the replacement hormones is very important," she explained.
Task Force Appointed to Develop Guidelines
The Endocrine Society appointed a task force of six experts, a methodologist, and a medical writer, using the Grading of Recommendations Assessment, Development and Evaluation to assess the strength of recommendations and quality of evidence.
The task force also commissioned two systematic reviews of the current evidence base. The first, a meta-analysis of 12 studies involving 26,017 patients, indicated that panhypopituitarism is associated with a relative risk of all-cause mortality of 1.55, with female gender, younger age at diagnosis, underlying craniopharyngioma or aggressive tumor, the presence of DI, and prior surgery or radiotherapy all linked to a greater mortality risk.
The second review involved seven studies and 22,654 patients. This showed that growth-hormone–replacement therapy is not associated with a significantly increased risk of either pituitary-tumor recurrence or secondary malignancies, at relative risks of 0.87 and 1.24.
The guidelines then grew out of a consensus process that involved a group meeting, conference calls, and emails, with a draft reviewed by the committee and members of the Endocrine Society, as well as the cosponsoring societies.
The resulting recommendations focus on the diagnosis and treatment of hypopituitarism, how to manage interaction between replacement hormones, and special circumstances, such as the management of hypopituitarism before surgery and during pregnancy, as well as in patients receiving antiepileptic medications.
Treatment Goal Is to Restore Hormone Levels to As Close to Normal As Possible
"The goal of treatment should be to restore hormone levels as close to healthy levels as possible," Dr Fleseriu says in a press release issued by the Endocrine Society.
"The interactions between these hormones also are very important, and patients might require dose changes of one or more of the replacement hormones after starting or discontinuing another one," she added.
Specific recommendations include that both free thyroxine and thyroid-stimulating hormone need to be measured to evaluate central hypothyroidism and that patients with the condition should be treated with levothyroxine so as to raise free thyroxine levels to the upper half of the reference range.
It is recommended that patients with suspected GH deficiency be diagnosed with the GH-stimulation test, while proven cases that have no contraindications should be offered GH replacement. People producing abnormally large volumes of dilute urine should also be tested for central DI via analysis of blood and urine osmolality.
Furthermore, among other recommendations, the guidelines say that all hypopituitarism patients should have an emergency card, bracelet, or necklace to warn of the possibility of adrenal insufficiency and that patients suspected of having an adrenal crisis due to secondary adrenal insufficiency should receive an immediate injection of 50- to 100-mg hydrocortisone.
Noting also that the laboratory component of the diagnosis of hypopituitarism is "very important," Dr Fleseriu said it essential that clinicians are aware of assay characteristics, as these may differ from one laboratory to the other: "Because of that, diagnosis can be missed or delayed."
In addition, the discussion of hormone assays ensures this is a "useful document for clinical chemists who are working as laboratory specialists."
This is complemented by an appendix that reviews the characteristics and limitations of the hormonal assays, as "we think establishing the diagnosis and also the monitoring of therapy requires a clear understanding of the hormonal assays," she concluded.
The guidelines were cosponsored by the American Association for Clinical Chemistry, the Pituitary Society, and the European Society of Endocrinology. Dr Fleseriu reported being on the board of directors for t he Pituitary Society; research support to her institution from Novo Nordisk and Pfizer; and serving as a consultant to Pfizer. Disclosures for the coauthors are listed in the article.
J Clin Endocrinol Metab. Published online October 13, 2016. Abstract